QuickTime Player Configuration – To Increase the Speed of your live streaming
In QuickTime Player, choose Edit > Preferences > QuickTime Preferences (or open System Preferences and click QuickTime).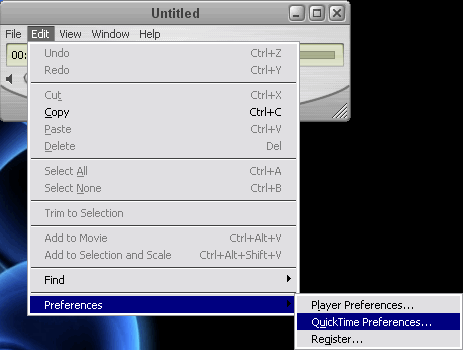 Click Streaming.
Once you have located the Streaming Tab, you will identify the connection speed that is supported by your hardware.  If you will be viewing the lectures from your work location, for example, we suggest using 1.5 Mbps T1/Intranet/LAN (shown below).  If, however, you are viewing the lectures from your home and your connection speed there is 256Kbps, you would choose 256Kbps DSL/ Cable as your best option.
After you have identified your connection speed and have applied this to your QuickTime player, you will want to Enable Instant-On by selecting the check box, please see below.
Finally, if you seem to be having problems with your media player being choppy, slow to buffer, or buffering too often, you can try increasing the delay to enable to player to cache more of your lecture.  This can be accomplished by moving the slider to the far right and then selecting Apply, please see below.
Once you have applied these settings, you have completed the configuration for QuickTime Player.