Low Back Injury Prevention and the NIOSH Lifting Equation
Course Summary:
Low back injuries represent a significant problem to industry.  As the Federal Agency responsible for conducting research and making recommendations for the prevention of work-related injury and illness, the National Institute for Occupational Safety and Health (NIOSH) recognized this, and in 1993 developed an evaluation tool called the NIOSH Lifting Equation.  The equation is fairly straightforward requiring the user to input a variety of information describing the lifting task (e.g. how far the load is away from the body, how frequently the lifts are performed, how far off of the ground the load is, how much the person needs to twist their spine to perform the lifting).  The equation then provides an evaluation of this lifting task and describes the relative risk of the task.
Course Highlights:
Introduction to basic spine biomechanics
Concepts of basic statics
Factors of low back injury
Risk calculation
Instructor
Gary Mirka
3004 Black Engineering
Phone: 515-294-8661
mirka@iastate.edu
Dr. Gary Mirka is currently a Department Chair of Industrial and Manufacturing Systems Engineeringat Iowa State University.  He teaches such topics as Applied Ergonomics and Work Design, Occupational Biomechanics, and other ergonomics courses.  He also manages the Ergonomics Lab at ISU to conduct research in the areas of occupational biomechanics, occupational safety, human performance augmentation, cognitive ergonomics, and human computer interactions (HCI).His research interests are in the area of occupational safety and ergonomics with particular emphasis on spine biomechanics, low back injury prevention and ergonomic intervention effectiveness research.  His research efforts have taken him into the construction, agriculture, commercial fishing, and furniture manufacturing industries.  Dr. Mirka was the recipient of the 1993 Volvo Award for Low Back Pain Research.
Course Outline:

Module 01:
Introduction to Spine Biomechanics
Module 02:
Simple Statics
Module 03:
The NIOSH Lifting Equation
Module 04:
Laboratory Exercise
Module 05:
Closing Remarks

Course Delivery Method:
Online Self-Paced Course (24/7) AccessTotal Course Hour:
Approximately 2 Hours 27 Minutes of Online video lessonsPE Credit Hour:
TBACEU Credit Hour:
TBA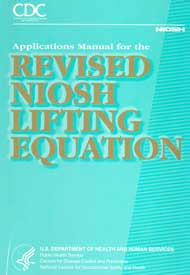 Course Materials:
Application Manual for the Revised NIOSH Lifting Equation, (Free PDF Manual from CDC)
Assessment:
No assessment for this course.
Technical Requirements:
High speed internet connection (DSL/cable modem or higher)
Internet Explorer, Mozilla Firefox, Apple Safari
Adobe Flash Player (free)
Adobe Acrobat or other PDF readers
Free Preview:
1st Lesson Free.  Please visit this site using the following demo account.  Once you login the site, please select appropriate to course for your review.
Username: elo-demo@iastate.edu
Passcode: 1lessonfree
http://pd.elo.iastate.edu
Registration:
Registration fee per student for this course will be $175 per person. After successful completion of the course, you will receive .5 Continuing Education Units (CEUs).
Register Online or call 1-800-854-1675 for More Information!