Engineering-LAS Online Learning at Iowa State University offers a comprehensive suite of tools for enabling research collaboration over the Web. The same advanced communications technologies and virtual labs and classrooms developed for our online instructional programs can support faculty from any number of institutions engaged in common research projects. Our well-supported facilities are standards-based, cost efficient, and scalable to ensure productive virtual meetings in real time.
Contact us at 515-294-7470 or email elo@iastate.edu for more information.
Virtual Collaborations Meeting Room (seats 15-40):  User configurable display and audio/video capture  systems support virtual meetings.  Current supported collaborative technologies include AccessGrid, and IP videoconferencing.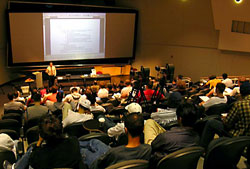 Auditorium (seats 250) with 3D high definition visualization and video conferencing is production-ready for broadcast/webcast.
Adobe Connect Hosting
Simplify your meeting or conference with Adobe Connect. Features include:
No downloads required to join meetings.
A rich interface provides an intuitive way for users to interact.
Ideal for both live and on-demand presentations.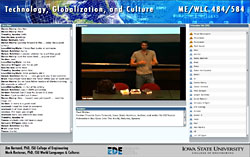 Our online surveys are powered by SurveyGizmo.